La Befana vien di notte,
Con le scarpe tutte rotte
Col vestito alla romana.....
Viva, Viva La Befana!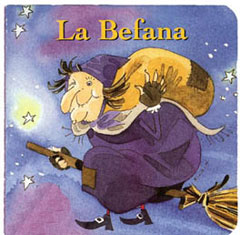 The Befana comes by night...
With her shoes all tattered and torn
She comes dressed in the Roman way....
Long life to the Befana!
La Befana is an old woman who delivers gifts to children throughout Italy on Epiphany.
This Italian gift-giving spirit is also known as Saint Befana,
La Vecchia (the Old Woman),
and La Strega (the Witch).
The character may have originated in central Italy, then spread as a tradition to the rest of Italy.
In popular folklore la Befana visits all the children of Italy on the eve of the Feast of the Epiphany to fill their socks with candies and presents if they are good or a lump of coal or dark candy if they are bad.
Being a good house keeper many say she will sweep the floor before she leaves. The child's family typically leaves a small glass of wine and a plate with a few morsels of food, often regional or local, for the Befana...
Same than Christmas time, you hang a sock othe cheminey and she will come down from there
Personally I loved receiving the coal...sooo sweet and fun to bite
Bakeries are full of coal on their windows during that time